Top 10 mega trends for the Indian Advertising and consumer market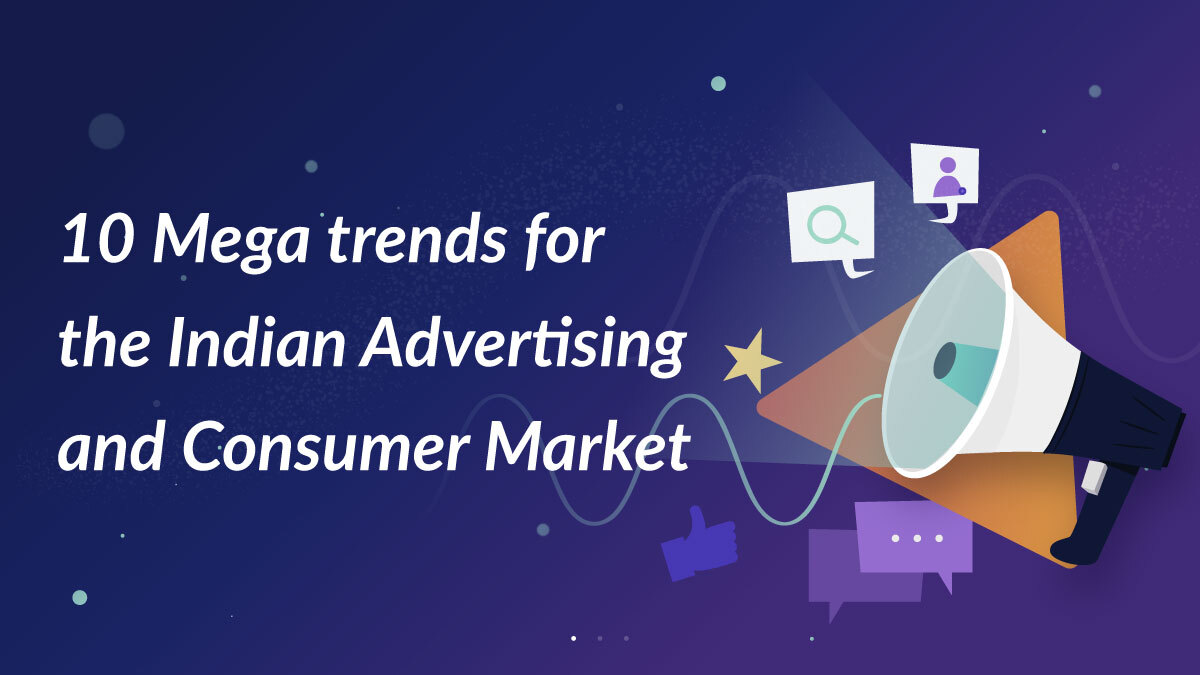 1) Re-evaluation of Rural-Urban Divide
BARC have adopted the new NCCS (New Consumer Classification System) which is geography neutral, considering only the education of the chief wage earner and the possession of durables, as against just the occupation. Why should a rural customer be not taken seriously just because of location?
2) Receding of Gender Bias
With women taking on more higher education, jobs and business pursuits, men will have to rethink their role. They will have to play a greater domestic role. 
3) Dramatic rise of new categories
No one would've imagined automobiles in 2000s or mobile companies in the 2010s to be such big Ad money churners a decade before. New products and services categories will rise faster than before and many areas like healthcare and education are waiting to unleash the power of advertising.
4) Rise of Product Placements
With traditional Advertising becoming more ubiquitous, we will see brands entering the narrative into the editorial text. This could be in the form of product placement in Movies/TV or even brand integration into the story line. All this will drive up costs, with an added benefit of better targeting metrics.
5) Transformation in Media Landscape:
During the 2020s, increasing literacy will create change. This in turn will drive vernacular print, digitization of TV which will create niche opportunities, and the Internet boom which will get further enhanced by 4G & more. Similarly, the increased urbanization  will lead to the continued growth of the shopping mall as the new village square and that will also offer new avenues for advertisers.
6) The blossoming of millions of small film-makers:
They will be able to exploit the downward cost spiral of making movies. In a reverse logic, all of them will be open to partnering with brands to create content that will be of use to consumers and brands. As smartphones become the screen for consuming media, we will see the uptake of these videos boom.
7) Niche Segmentation:
The Ad cost on TV has skyrocketed but the reach has risen as well. It would be impossible to reach all with so many channels but the ability to deploy media into smaller and smaller segments will help numerous new Indian brands to enter the world of advertising. If the '80s saw Nirma, the '90s saw Paras and Emami, the 2020s will see hundred such new companies bloom all over India.
8) A stronger social narrative in brand presentations:
If we dial back, we can see how the national integration campaigns and films played a role in building a sense of national unity. This is a global trend but it is catching on in India rather fast.
9) Brands adopting a more humane approach to advertising:
With the socialist halo fast disappearing, the government will emerge in the 2020s as the biggest advertiser, using advertising for all kinds of purposes, from refusing gas subsidy to paying taxes to opening bank accounts to buying health insurance.
10) Emergence of consumption culture:
Indian consumers will come out of their shell to buy and spend more. Encouraged by advertising, we will see a quicker onset of product obsolescence. From the days when a car was used for ten years, we are already seeing cars being traded in every five years or less. Mobile phones too are facing rapid recycling. The same is true with other household durables. Unfortunately, the emergence of the potlatch culture will also be a part of the modern Indian reality. Bigger and bigger weddings, bigger and bigger expenditures on weddings and birthdays are going to be a part of modern India. This will lead to a bigger set of problems.
"As India changes, its advertising will also change and become a force multiplier. That is the power of advertising. And that is what advertising can achieve. These questions and more will keep advertising men and women awake at night. And that is not entirely a bad thing."
Ref: Ambi Parmeshwaram, Nawabs, Nudes and Noodles.