Top 7 Social Media Platforms for Business Growth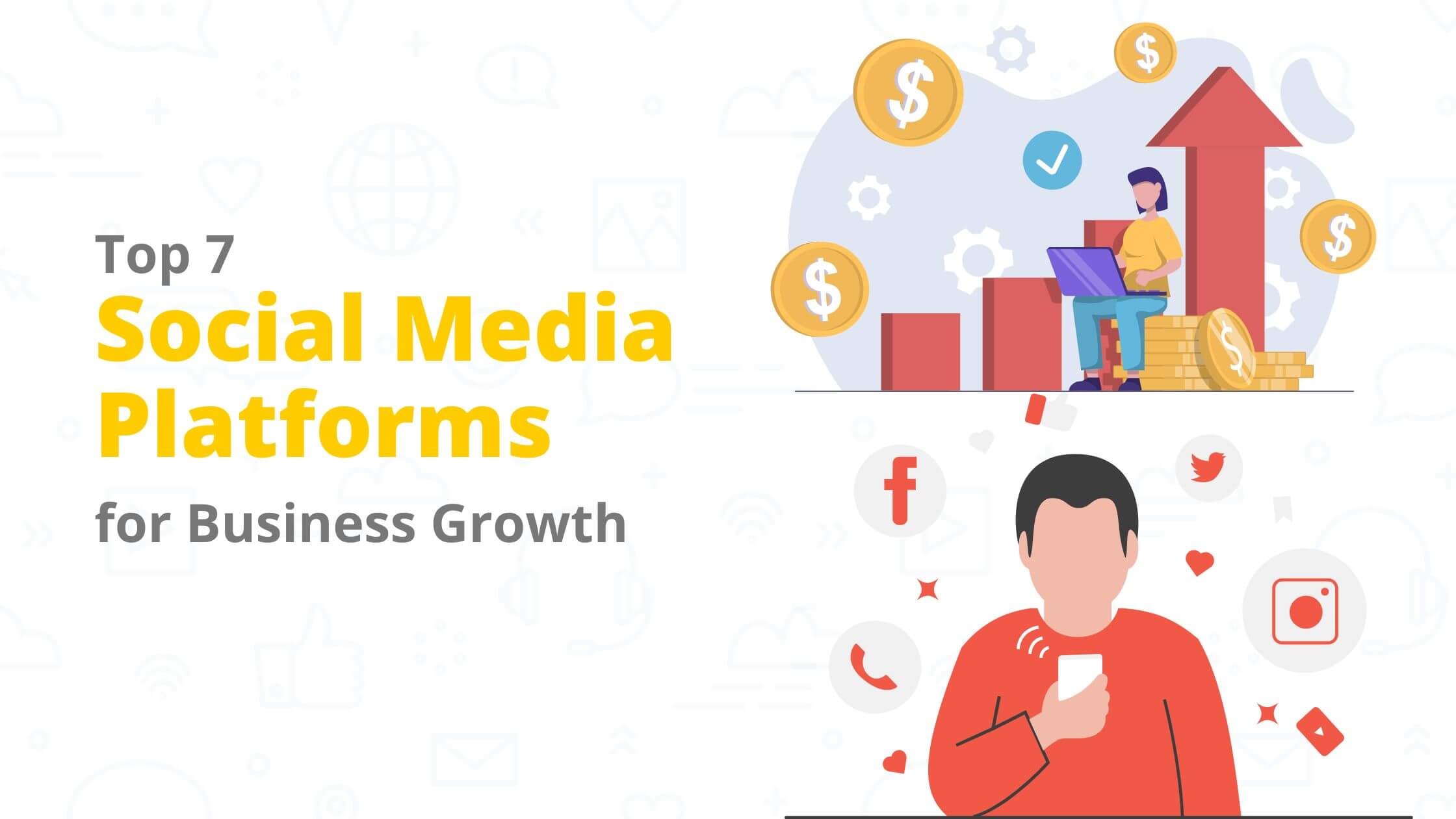 What is social media marketing?
For the previous 3 years, the craze of social media apps has drastically increased and many of them are used as marketing tools for online advertising.
Social Media platforms allow businesses to interact with their customers for below benefits:
To Build a community of users to get interaction updates
Boost sales& increase awareness
Enhance website traffic with organic benefits
Brands may boost their exposure by creating suchcontent that people will share with their own networks. When utilized as a recruitment tool, it also reaches out to fans, future clients, and even potential workers.
Also, social media marketing gives businesses the chance to hear from customers and humanize their brand. Organizations can build connections with their audience using social media. It provides a forum for customers to voice concerns, ask questions, and generally be heard. Also, it allows businesses the chance to react, adapt, and change their products or operational procedures.
Instagram, Facebook, YouTube, LinkedIn, Twitter, Pinterest, and Behance are a few of the well-known social networking applications. There are elements on each platform that make it attractive to use. Customers can view those communications on their preferred channels when a business combines to deliver a multichannel message.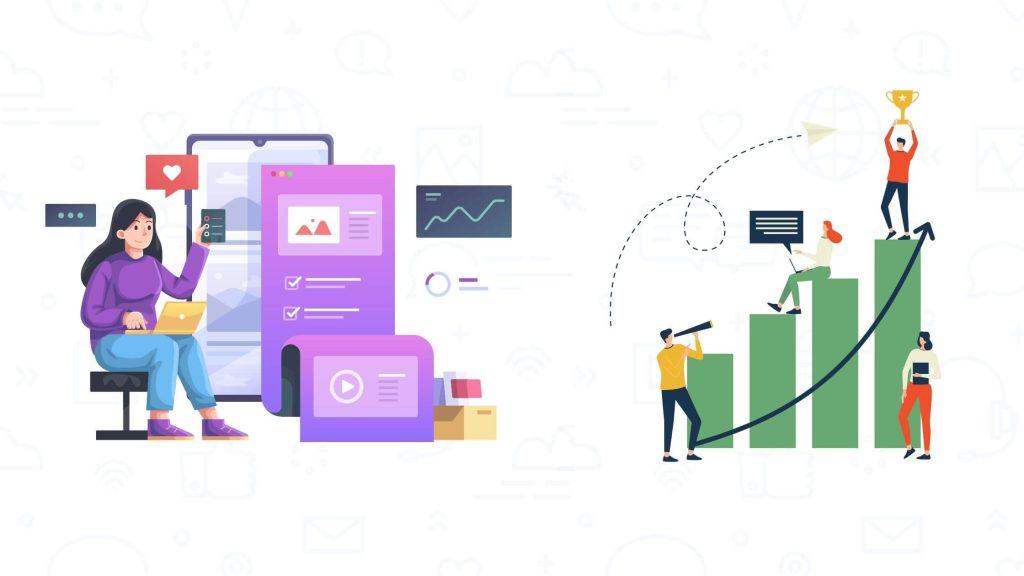 TYPES OF SOCIAL MEDIA PLATFORMS& STRATEGIES
1. INSTAGRAM
With over 2 billion monthly active users, Instagram is currently one of the most popular social networking sites. It's amazing how well-liked both consumers and companies find an app that was initially designed for random selfies and photographs. In actuality, Instagram is a veritable gold mine for companies of all sorts.
What is Instagram marketing?
Instagram marketing is a form of the social media marketing that refers to using Instagram and its tools to grow a following and advertise your brand. In order for brands using Instagram marketing to be successful, they must produce content specifically for the platform, develop a strategy for that material, interact with their target audience, and more.
There are 4 ways to develop an Instagram marketing strategy:
Establish your Instagram marketing objectives.
Improve your Instagram account.
Choose your target demographic, plan your Instagram content, and consistently post new stuff.
Get more Instagram subscribers
2. FACEBOOK
Over the years, we've seen various social media platforms have their ups and downs – but through it all, Facebook has remained a force. With nearly 3 billion monthly active users, Facebook is by far the most used social network. That means it's a great place for your business.
What is Facebook marketing?
Facebook marketing is the promotion of a business and its products/services on Facebook through a business page. By fully optimizing your business page, brands can create a different website, and even sell directly on Facebook.
9 Ways to Create a Facebook Marketing Strategy:
• Set Facebook Marketing Goals
• Know Your Facebook Audience
• Post a Mix of Content to Your Facebook Feed
• Figure out the time when your followers are active
• Plan Your Facebook Content
• Be Active with Your Audience
• Use Messenger to build customer relationships
• Define your advertising strategy on Facebook
• Track and analyze your results
3. YOUTUBE
YouTube is the second-largest social media site in the world, with over 2.5 billion active users each month. More and more consumers are using YouTube for product research, education, and enjoyment. Your company can benefit from platform marketing by increasing brand awareness, strengthening partnerships, improving SEO, and attracting high-converting visitors.
What is YouTube marketing?
The process of promoting your company, product, or service on YouTube is known as YouTube marketing. YouTube is mostly used by marketers in three different ways:
• Produce unique videos
• Collaborate with influencers
• Show video adverts
Moreover, YouTube is the second-largest search engine in the world. Yet, getting ranked on the platform is really difficult. On YouTube, there are more than 5 billion videos, and 500 hours of new content are added every minute. Gaining visibility on YouTube requires a thorough understanding of the YouTube algorithm and careful video optimization.
10 Ways to create a YouTube marketing strategy:
Create quality YouTube video content
Define your YouTube audience
Analyze your competition
Utilize other features like YouTube Shorts
Optimise your videos using SEO best practices
Actively engage your audience
Gain more YouTube subscribers
Use YouTube ads to bring in targeted traffic
Collaborate with YouTube influencers
Monitor YouTube analytics.
4.LINKEDIN
More than 59 million businesses use LinkedIn Pages to connect with the 875 million users. The best way to stand out from this crowd is with a well-planned LinkedIn marketing campaign. Comparing LinkedIn to other social platforms, it is a very distinct animal.
What is a LinkedIn marketing strategy?
Strategies for using LinkedIn to achieve specific marketing goals are referred to as LinkedIn marketing strategies. Anything from finding top talent to establishing your brand may be included in LinkedIn marketing. The social media platform of choice for B2B marketing is well-known to be LinkedIn. Yet, B2C businesses can also succeed on LinkedIn.
13 Ways to create a LinkedIn marketing strategy:
Research LinkedIn influencers and companies that resonate
Optimize your LinkedIn profile
Link with people you want to impress
Create a LinkedIn Page for your business
Promote your LinkedIn- page
Use content scheduling for consistency
Create content that showcases your professionalism and personality
Use different content formats
Put external links in comments, not messages
Resist the temptation to automate outreach
5. TWITTER
Twitter started as a place where people could share their thoughts. It has now been transformed into a powerful marketing platform that allows brands to connect with their audience. With 217 million daily monetizable users, it's easy to see why businesses continue to use Twitter after all this time. However, sending a random tweet about a trending topic is no longer enough. Brands need to be more intentional with their Twitter marketing to stand out and engage their audience.
What is Twitter marketing?
Twitter marketing is the process of promoting brands and their products or services through Twitter. It includes a well-established social media marketing strategy to create and publish content on the platform. When marketing on Twitter, you need to post the right tweets at the right time to attract the right audience.
9 Ways to create a Twitter marketing strategy:
Monitor Your Twitter Account
Find Your Twitter Voice
Use Twitter Tags and Trends
Use Twitter Ads
Know When to Tweet
Plan Your Tweets in Advance
Connect with Your Twitter Followers
Set Measurable
Twitter Goals
6. PINTEREST
Pinterest is a social media platform where users explore, share, and save visual content they find inspiring, useful, or entertaining. Users add or pin their selected content to boards with a common theme to keep it organized so other users can find new content related to their interests.
What is Pinterest marketing?
Marketers target Pinterest users by sharing content too compelling for us to ignore. And more than 433 million on Pinterest, where 83% of users made a purchase from content seen on Pinterest. To get the most out of the platform, upload your business content from a computer or mobile device, pin content you find on the platform, and add content you find online using Pinterest's browser button. Engagement is key. Follow your friends' and competitors' boards, like and comment on other people's Pins, pin (or repost) content, and share links to your website and blog on your Pins.
8 Ways to create a Pinterest marketing strategy:
Create a business account
Specialize the right category for your content
Use unique images and videos
Use keywords
To engage more share the content on other platforms
Follow, participate, and interact with other accounts
Make the most out of social media practices
Analyze your results
7. BEHANCE
Behance is an Adobe-owned social media platform with a primary focus on showcasing and discovering creative work. It has nearly 57 million monthly active users.
What is Behance marketing?
Behance is a powerful tool for creatives to show case their work, build their network, and find job opportunities. By taking the time to create a strong portfolio, engage with other creatives, and share your work on social media, you can increase your visibility and potentially attract new clients or collaborators.
5 Ways to create a Behance marketing strategy:
Create a strong portfolio
Use tags and keywords
Engage with other creatives
Share your work on social media
Apply for job opportunities
CONCLUSION
Social Media Marketing is a powerful way for businesses to connect with their target audience, build brand awareness, and ultimately drive sales. Social media platforms such as Instagram, Facebook, YouTube, and LinkedIn offer different opportunities for businesses to engage with their audience and tailor their marketing strategies to meet their specific goals. To develop an effective social media marketing strategy, businesses need to establish their marketing objectives, identify their target audience, create relevant content, consistently post new material, engage with their audience, and track and analyze their results. SMM provides an opportunity for businesses to listen to their customers, build relationships with them, and adapt to their needs. With the ever-increasing popularity of social media platforms, SMM will continue to be a vital tool for businesses of all sizes to connect with their customers and achieve their marketing goals.